What this means
It is not easy to create the correct artwork that will print well. Most people don't have the technical print design knowledge to do this.
If your design (artwork) is not correct, the end printed result can be poor.
An example is shown below (where we show poor printed results, before we fixed the design (artwork) and good printed results after we fixed the design (artwork).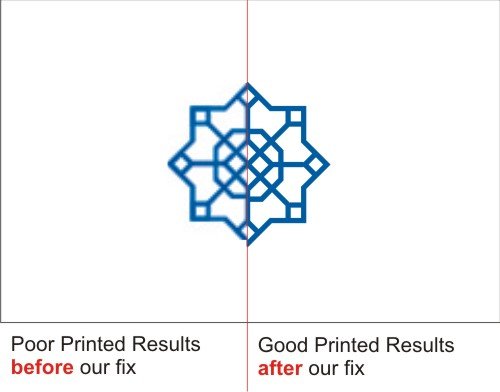 HOW does this help you
You don't have to worry about providing us with a perfect design (artwork) that will print well.
As part of our service for no extra charge, we do lots of additional work for you (which you may not realise) Remember, no other UK printer will do this extra work for the price we charge you.
The additional work we do for you includes the following,
Inspecting your submitted designs (artwork) to ensure they are suitable for print and informing you if we have any concerns.
Carefully converting any files that are not "print ready" to print. Remember, we accept all file types including

Redrawing your logos if necessary.
Taking a proof from a previous printer/design, a photograph of your postcard or a postcard you like the style of, a scan or even a sketch. The minimum we require is the details you want to place on your postcards.
Helping you to create a simple design (artwork) if you don't have your own including creating a simple design (artwork) from fresh.
Making any changes to your design (artwork), for example name changes, phone number changes etc.
Emailing you proofs of the final version of the design(artwork) that will be used for printing.
You can ask us to make changes to the proofs we send you and we will resend more proofs. This backwards and forwards of proof emails continue until you are happy.
NOTE: You can cancel at any point until you say you are happy with the proof. We only go to print once you say you are happy with the proof, after which you cannot cancel.